Best school in Bhiwadi, Delhi/National Capital Region
The social and industrial structure of Alwar, notably Bhiwadi, has seen significant development in the previous ten years. Families are moving here because of the employment opportunities, which raises the demand for residential townships, schools, and other utility infrastructure. Schools, colleges, and training facilities that are brand-new or well-established franchisees have opened in Bhiwadi and are furnished with the most recent digital necessities for this generation. These contemporary schools are setting an example for the entire state by managing services like transportation tracking, online fee payments, attendance, and class management digitally. Sports and extracurricular activities are prioritized over the curriculum set forth by CBSE or the State Board since they support each child's entire development. Bhiwadi is doing everything in its power to ensure that its citizens' children receive top-notch education and experience complete growth. Here is a list of some of the best school in Bhiwadi.
Following is the list of best school in Bhiwadi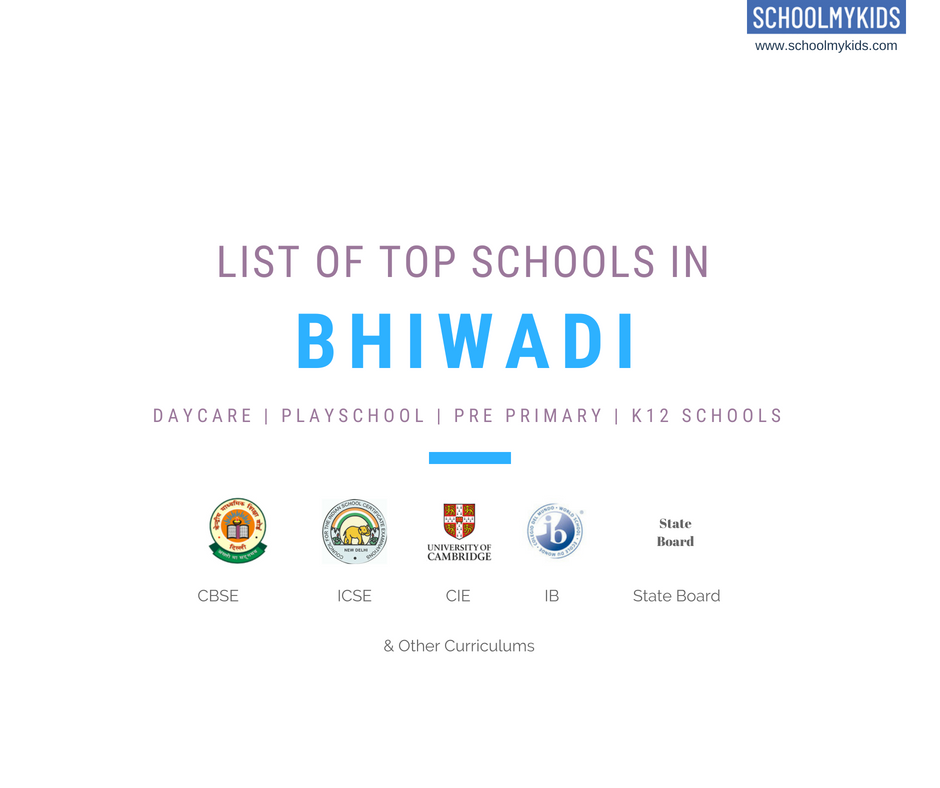 1.  RPS Public School
The 2015 establishment of Rao Pahlad Singh (RPS) Public School is situated on the Dharuhera-Bhiwadi Expressway. It is associated with the CBSE. The school, which occupies 5 acres of land, aspires to provide value-based education to all citizens. Mr. O.P. Yadav, a well-known advocate and educator, founded it. Since its founding, RPS has constantly been on lists of the best colleges. With modern amenities like science labs, math labs, libraries, indoor and outdoor sports fields, dance and music rooms, etc., it has a committed and passionate faculty.
Phone: +91-9467064534, 9467064577
2.Euro kids International
The EuroKids Group, which was established in 2001 by Prajodh Rajan and Vikas Phadnis, runs its own pre-schools and schools in India as well as using the franchising business model. In 2018, Eurokids, Bhiwadi, was founded. It is the best kids school in Bhiwadi They emphasise playing with and teaching youngsters in contemporary methods. To bring out the best in each child, the pre-school provides amenities including a children's gym, motion-based learning, sports facilities, yoga, meditation, cultural programmes, and a splash pool.
Phone: 8070500500
3.The Ashiana Institute
The Ashiana School, which opened its doors in 2018, is adamant that education gives pupils not just intellectual energy but also humanistic impetus and character energy. Students are equipped to become responsible, sensitive, confident citizens and lifelong learners through partnerships between the school, family, and community.
Modern amenities for sports, music and dance, scientific labs, libraries, computer labs, and other areas are available to students.
Phone: 7240030004/05
4.SD Wonder World School
The kindergarten has a great reputation among parents and is known for its attentive staff, innovative teaching methods, and homely atmosphere.
phone:
7240070701
5.Kizzy Play School
With her 1,900+ centers in over 750 cities, Kidzee is Asia's largest kindergarten chain. A pioneer in early childhood care and education. Kidzee has developed a unique child-centered learning method called illume. Founded in 2008, her KIDZEE Bhiwadi motto is to provide a safe and loving environment for children. They drive their learning programs primarily through music, arts, drama, dance, puppetry, excursions, indoor and outdoor activities, and adventures.
phone:
9983343950, 9983755950
6.Cambridge Convention Senior Secondary School
This co-educational school was established in 2010 and offers classes from I to X. Students have access to facilities such as sports facilities, library, swimming pool, computer lab and indoor games. Extracurricular activities include excursions, drawing competitions, and picking up trash.
phone:
8696977111
7.Modern Public Schools (MPS)
Modern Public School (MPS) was founded by him in April 1986 and today has grown into a fully coeducational, English-language high school. This school is affiliated with his CBSE and offers education from preschool through her XII grade. The school was established under the auspices of the Model Public School Association chaired by Mr. V. P. Cowra. It aims to provide valuable learning experiences through operational excellence and support that can make a big difference in the quality of children. The school includes well-ventilated classrooms, science laboratories, It has modern infrastructure with beautiful facilities. Students can enjoy various sports activities on the playground. In 2016 she won India's Best Institutional Design Award at the NDTV Design Awards and is ISO 9001 certified.2008 accredited school. it is the best school in bhiwadi with all facilities and good education facilities.
phone:
01493-641179
8.GD Goenka
The franchisee was established in March 2015. He adapts and adjusts to the needs of the site and moves the child towards complete readiness for the world. The focus is on social care, sensitive thinking, environmental concern and responsibility, empathy, empathy and appreciation for all. Affiliated with CBSE, it is a mixed day school with classes from Kindergarten to VIII. The school is a franchisee of his famous GD Goenka Public School Vasant Kunj and was established by Shri Anjani Kumar Goenka in his 1994 Founded and named after his mother, Mrs. Gayatri Devi. How are you? phone:
8505000699
9.Delhi International Public Schools
The school was founded in 2011 and is affiliated with CBSE. The school is an English Medium Coded Day School from I to VIII with the motto 'Serve Before Self-Serve'. Dedicated and professional teachers ensure that children get the most out of their education. As such, the school achieves excellent results not only academically, but also in extra-curricular activities such as inter-school sports competitions. phone:
72400 00064
10. UCSKM Public Schools
The school was founded in 1998 by eminent academic and social worker Colonel P.S. Satsangi aims to provide students with a high-quality, career-oriented, quality-based education. The Institute is a coeducational English language secondary school from LKG to XII with approximately 2000 students and affiliated with CBSE. The classrooms are spacious, airy, and bright, providing an upbeat atmosphere for students and faculty to pursue academic excellence. phone:
01493-298081, 298082
11. Xavier's School
The school is a Christian minority school run by Jesuits of the Delhi Diocese of the Society of Jesus in partnership with the Franciscan Order of Our Lady of Mary. Established in 1993, the school is affiliated with The CBSE for Grade X and All India High School Certificate Examination for Grade XII. The school has digital classrooms with interactive whiteboards, a computer lab, fully equipped science, math and language rooms, a well-stocked library, multi-purpose halls and sports fields.
phone:
01493-230347,
12.International school
Mamta Modern Education Society is an old and respected association that runs his two schools in Bhiwadi and Delhi. Bhiwadi runs the Presidency the International School on 6 acres. The school has about 2000 students from I to XII studying in various business and scientific departments and a dedicated and dedicated team of teachers to create future global citizens and working hard to improve the reputation of the school. In addition to performing well in various exams, the school stands out in sports such as football at the state and federal level.
phone:
8875432490, 8875432495
13.S. Memorial Secondary School
The English Medium School was founded in his 2008 and is affiliated with the State Board for grades 1 through her 10. The teachers are professional and highly dedicated to ensuring that children get the most out of their education. Curriculum and extra-curricular activities are equally important.
phone:
7425043218
14.Naveen Public Schools
The school is a coeducational day school with grades I through X. English middle school. The school is located in the Vasundhara Nagar district of Bhiwadi. Founded in 2016. The school aims to meet the educational needs of every child with quality teaching and extra-curricular activities for comprehensive development. phone:
9785215482
15. Public Schools
The school has been active in the field of education for 21 years. It is oldest and best school in Bhiwadi .Since its inception, the school has focused on providing quality education by continuously adding new dimensions and directions to its comprehensive educational program. It provides a safe and highly encouraging environment for children. Students are taught the multiple intelligences they need to advance their well-being and scholarship, build their worth and self-esteem, and make a difference. "Work together, learn together, act together for our common future" is the school's motto. This is his CBSE Coed Day related to ISO 9001.
Accredited in 2008 to meet the educational needs of students from Kindergarten to VIII.